Campbell Innovation Award
2022 Award Recipient - Dr. David S. Marks
Congratulations to Dr. David S. Marks and his acceptance of the inaugural Robert Campbell Jr. Award for Innovation in Early Onset Scoliosis at ICEOS 2022 in Rome, Italy.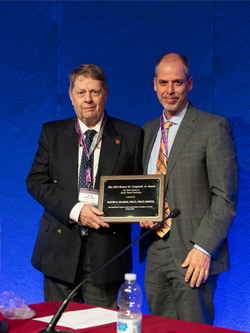 Dr. Marks qualified from St. Bartholomew's Hospital in London in 1985. Following general surgical training in London and Warwick, he commenced orthopedic residency in Birmingham in 1991. He was senior registrar to the spinal deformity service in Birmingham from 1993, and was awarded a British Orthopaedic Society Wishbone Travelling Scholarship in 1995.
Dr. Marks was appointed as Consulting Surgeon to The Royal Orthopaedic Hospital and The Birmingham Children's Hospital in December 1995. He was also made an Honorary Senior Lecturer to The University of Birmingham. He has been an active member of the Scoliosis Research Society, initially as a corresponding fellow, then as Active fellow, and now as a Member of The Board of Directors.
Dr. Marks' practice is now mainly in the area of spinal deformity, with the focus being on pediatric and early onset scoliosis in particular. He was the first GSSG site for data collection in 2002 and has had authorship on the 1st seminal papers on Growing Rods. His earliest paper was "A Halo Plaster Jacket for Stabilization of the Pediatric Cervical Spine". He has been co-designer for two pediatric non-fusion systems and remains actively involved in implant design.
About the Award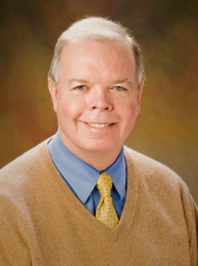 Dr. Robert M. Campbell, Jr. was a renowned pediatric orthopedic surgeon, especially noted for his invention of the Vertical Expandable Prosthetic Titanium Rib (VEPTR). This award, established in his memory, honors Dr. Campbell and his many accomplishments in the early onset scoliosis field.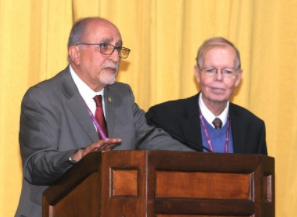 The Campbell Award is granted annually at the International Congress on Early Onset Scoliosis to a physician or scientist for outstanding contributions to the care of children with early onset scoliosis. Contributions may include innovative concepts, techniques, devices, or other major contributions which have significantly improved treatment outcomes for these children. While any physician or scientist is eligible to receive the Campbell Award, special consideration will be given to senior thought leaders.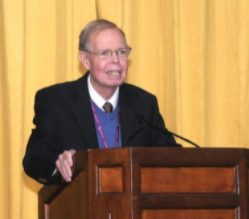 At the ICEOS 10th Anniversary Gala in 2017, Dr. Campbell was awarded with the first Lifetime Achievement Award from the Growing Spine Foundation for his unwavering dedication to the care of children with spine and thoracic deformities. It is in his name that ICEOS continues to recognize those who have made a significant difference within the field of Early Onset Scoliosis throughout their careers.
Photos from top to bottom: Dr. Robert M. Campbell, Jr.; President and Founder Behrooz A. Akbarnia presenting GSF Lifetime Achievement Award to Dr. Campbell at the 10th Anniversary Gala in San Diego; Dr. Campbell receiving his award at the 10th Anniversary Gala.
Past Award Recipients
2021: Behrooz Akbarnia, MD
2020: George Thompson, MD
2019: John Emans, MD